Energy prices for the average UK home have skyrocketed in the last year or so. The energy crisis is putting a very real and measurable strain on all our purse strings, making the need to conserve energy use more important than ever. Besides curbing needless use through everyday actions like turning of standby devices, improving home insulation is the most effective way to reduce your consumption. As it happens, around 30% of heat loss occurs through the windows. As the first line of defence against a colder home, shoring these this up should be top priority. But with so much choice out there, what's the best window dressing to achieve this? Well, there are some who say curtains, and some who say shutters. So, we thought we'd set the record straight.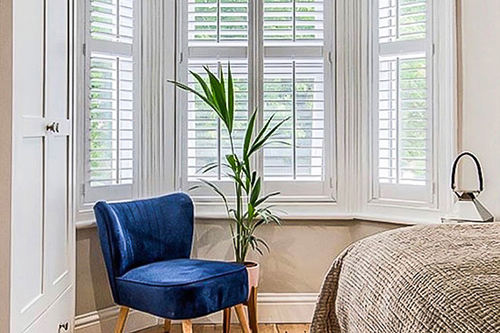 Curtains vs Shutters
"Should I get curtains or shutters?" It's a perfectly legitimate question to ask yourself when shopping around, and one that we're here to answer. Whilst we can't knock the appearance of curtains – they're almost as easy on the eye as shutters – there are several practical benefits that see shutters running out as the clear winner:
A custom fit
Our plantation shutters are precisely sized to fit your windows, right down to the millimetre. If you go with Purely Shutters, you can rest easy knowing you'll get a bespoke shutter from us.
A bespoke package
When you book a FREE home survey with one of our Shutter Specialists, it's more than a simple measure-up. Our experts will talk through the many different options and offer their advice to find the best style and range for you and your home.
Light and privacy
Curtains offer both things, but not on the same level as shutters. Their movable slats give you the ultimate control over how much light comes into your home, all while allowing you to see out without exposing your interior to passers-by.
But that's not all…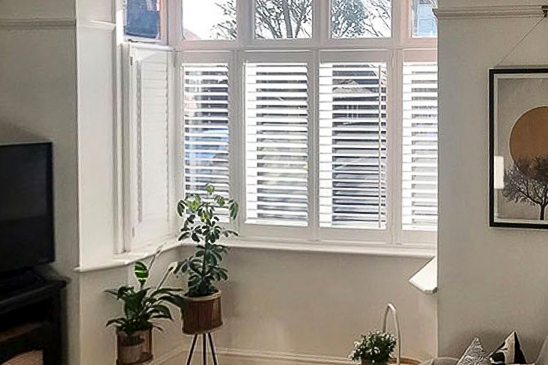 Shutters and Insulation
Curtains do have some insulating properties, but they hang loosely in front of the window reducing their home insulation effectiveness. Shutters, on the other hand, are made to match the dimensions of your windows. And because they're fitted flush to your recess, there will be no air gaps. This prevents irksome drafts from leaking into your home and keeps the heat in, making shutters much more efficient insulators.
But you don't have to take our word for it. As it turns out, Historic England did a study on the thermal performance of traditional sash windows. In their research, they discovered that a set of well-fitting shutters brought a 58% reduction in heat loss through the whole window. This compared favourably with heavy curtains, which came in at 41%.
So, by going with shutters, you'll keep your home warmer, and save money on your energy bills in the process. Oh, and did we mention that shutters are equally as effective at keeping out the sun's rays in the summer months? Who doesn't love a win-win?
If you have enjoyed this article but still need further clarification on the curtains vs shutters debate, we're here to answer your queries. Simply call us on 0800 038 5311 or send an email to hello@purelyshutters.co.uk today. Ready for your FREE home survey? Request an appointment today and one of the team will be in touch shortly.