Window shutters come in all different shapes, styles, makes and colours. From solid shutters to café style shutters, from bespoke shutters to external shutters, there is a huge range available depending on your needs and requirements.
If you are considering installing window shutters in your property and have just started your shutter journey, you may be wondering what the difference is between interior and exterior shutters, and the benefits each one has to offer.
There are lots of things to consider before deciding on your shutter choice, for instance are privacy and light control important factors? Are you planning on opening your shutters each day? Even your property type and where you live could influence your final decision. Both types of shutters can offer similar benefits, but it's the subtle differences that will help you understand which type will suit your needs better.
Here we guide you through some of the questions you may have, helping you to come to a decision about the type and style of window shutters you will choose for your home.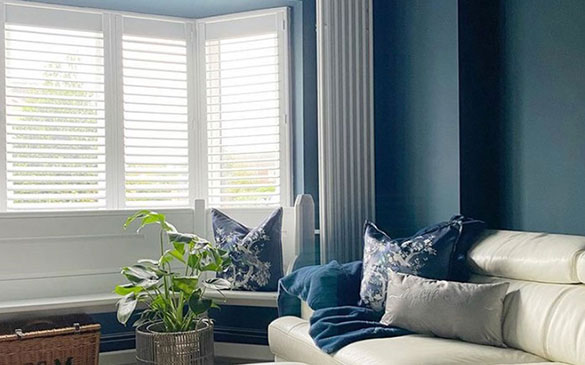 Interior Window Shutters
Internal window shutters can be installed into any window or patio door in your home. They instantly transform the look and feel of your room, adding a classic, timeless elegance that will match any décor on interior design you decide on. We can even match any paint colour you decide on if you would like your shutters the same colour.
If you are using your shutters for privacy and light control, interior plantation shutters are the perfect choice. The adjustable louvres give you absolute control over how much light comes into your room as you can angle the slats depending on your needs without compromising on your privacy. In warmer weather you can open windows to allow ventilation but keeping your shutters closed will still provide your home with privacy and security.
In addition, interior window shutters are very easy to maintain and are also great for people that suffer from allergens as they require nothing more than the occasional wipe down with a damp cloth to keep them dust free.
Exterior Window Shutters
As the name suggests exterior shutters are fitted to the outside of your windows. Their aesthetic value can really add a classic, Mediterranean look to a property and even a splash of colour to the outside, helping to improve the curb appeal of your property.
Window Shutters For Your Home
If you live in an area that has severe weather conditions exterior window shutters can help protect your windows from falling branches or flying debris. They can also add an additional layer of protection to your home, especially if the exterior window shutters you opt for can be latched from the inside.
If you are still undecided about which shutter style would suit your home and your needs, why not contact us today. Our team of experienced, professional surveyors will be able to guide you through the range of plantation shutters available and will discuss the features and benefits of each.