If you love your views of the great outdoors and the fact that sunlight can pour into your home, wide windows are a fantastic feature. The only downside is that they can be a little tricky to dress so below we discuss exactly how you can do this.
If controlling light is a priority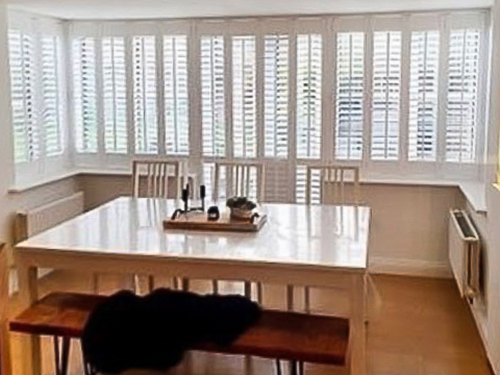 Whether you're struggling to see your computer screen or it's a scorching hot day and you desperately need some shade, there are occasions when you're going to want to be able to control the light coming in through your windows.
Temporary blinds can help, but plantation shutters are quite simply the best option because you can adjust the slats according to how much light you want to come in. The added bonus is that if you do want complete darkness, you can fully close them.
If you need privacy
Most of us live in built-up areas which means that our neighbours' properties often overlook ours and passers-by can easily see into our homes. Unfortunately, wide windows only exacerbate this problem because with such a large view, it's impossible for people not too see in. Again, sheer fabrics can help to solve this issue because they still let light in but distort the view into your house from the outside world. With regards to shutters, you have a couple of options:
If you're worried about security
As beautiful as wide windows are, they can leave you feeling a bit vulnerable when it comes to security. While curtains and blinds won't unfortunately provide any extra security, shutters can really help. Not only do they offer an extra barrier which makes it incredibly difficult for anyone to break in, it's also impossible for anyone to see into your house when they're closed which means that potential burglars can't see if anyone's home.
If you need better insulation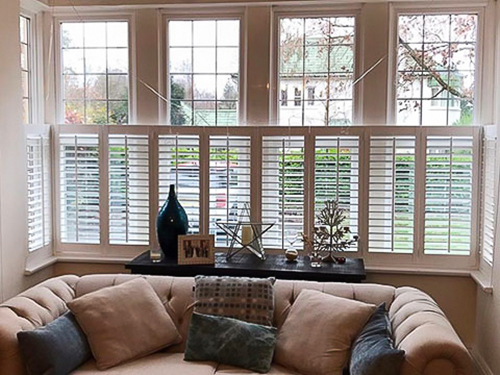 If your house always feels chilly no matter how high you turn the heating, your windows could be to blame. It's estimated that up to 35% of the heat in our homes is lost through walls and gaps in and around windows and doors.
Double glazing and filling in any gaps is a great way to prevent heat escaping and your window dressings can also play a huge role in heat insulation. Thick curtains or blinds will help but the problem is there's still a gap between the material and the window where heat can get out.
If heat insulation is an issue for you, shutters are your best bet. They're fixed directly to the window and therefore offer an extra layer of protection and what's more, they're fantastic heat insulators so will help to keep you nice and warm during the winter months.
To begin the process of upgrading to shutters for wide windows, why not arrange to meet with our expert surveyors for free!