Window shutters are a popular window dressing for a reason. They're stylish, durable, versatile, customisable, bespoke, and they're acknowledged as the only window treatment to add value to a property. We strongly believe that window shutters are a cost-effective and practical solution to your window woes, especially for interesting shapes or tricky locations.
Plantation shutters offer privacy and light management, plus they're an excellent way of regulating room temperature. That means superb heat insulation in winter, because well-fitting wooden plantation shutters have been found to provide efficient protection against the cold.
At Purely, we offer a wide variety of shutter styles to choose from. But don't be intimidated, because we're going to get right into it. By the end of this short article, you'll be an expert in all things shutters.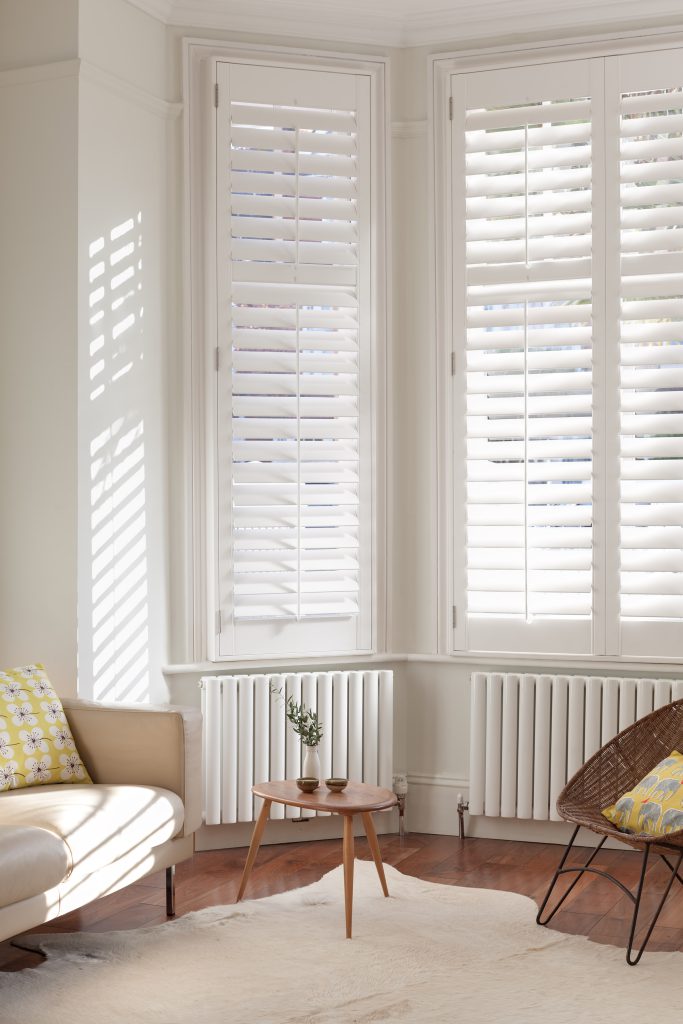 Plantation Shutters
With their solid wood frames and slats, plantation shutters – also known as shutter blinds – are the most stylish and elegant window dressing on the market. They're an ideal way to control light and privacy, without compromising on either one. They also have that initial "wow factor" that other dressings simply lack. These timeless fixtures come in a wide variety of shapes and styles. From square to arched, round to oval, you're sure to find a shutter for your window.
Full Height Shutters
This is it folks, the classic. An oldie but a goodie, they're our bread and butter. Covering the entire window, full height shutters are our most popular offering – and for good reason. They give you complete privacy control, work wonders for keeping out irksome drafts, and you can always hinge them open if you'd like to let more light in. Remember that "wow factor" we talked about? Well, full height shutters epitomise exactly that.
Solid Shutters
Not your typical shutter, these ones look more like the shutters of old, particularly those found in late-medieval Europe. This makes them brilliantly suited to homes with a more traditional or rustic aesthetic. However, they also blend seamlessly with more contemporary décors. Often used as a chic bi-fold door solution or as room dividers, solid shutters offer elegance and sophistication in equal measure. Plus, because they have no slats, they're a wonderful solution for insulation, increasing security, and providing near black-out light filtration. All this, and they even reduce noise pollution coming from busy streets.
Combination Shutters
Also known as solid base shutters, you'll get the best of both worlds with these. Combination shutters are comprised of solid panels on the bottom and movable slats on top. So, if you're looking for a sleek and stylish way of combining the privacy offered by solid shutters and the light management of plantation shutters, then solid combination shutters are the one for you.
Café Shutters
If you're not looking for full window coverage, then café style is a great option. While they are commonly made to cover the bottom half of the window, this is completely customisable. You can have them up to any point you like, and it's very common for customers to line them up with existing rails or window transoms. These half height shutters are the perfect way to guard your privacy, while still illuminating your room with natural light. They're often used in terraced houses or homes with rooms facing onto the street. To add a more contemporary feel to your home, opt for café shutters.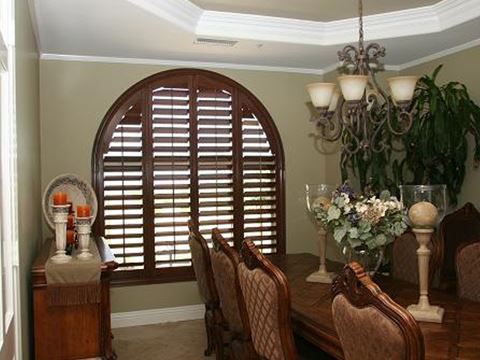 Shutters for Special Shaped Windows
Not all windows are created evenly. By this, we mean that windows come in all shapes and sizes. You could have a square window that has uneven sides, or you could have a special shaped window. This could be anything from a circle to a square to a triangle. Luckily, our shutters are always made to measure to the exact specifications of your window, and no matter the shape, we can shutter it. So, don't be afraid to call us up to dress your hexagonal window, because we are up to the job. In fact, our Shutter Specialists love the change to install some special shaped shutters.
Tracked Shutters
Also known as sliding shutters, tracked shutters are an ideal solution for very wide windows or sliding patio doors. We've even fitted them as room dividers and wardrobe doors. They are fitted using a track system either along the top, or the top and bottom. This allows them to move smoothly and independently of any window or door which sits behind them. When opened, they neatly concertina to sit on top of one another.
Still have questions? Get in touch
Our website is jam-packed with useful information but if you still have questions, we'd love to hear from you. Feel free to give us a call on 0800 038 5311 or send an email to hello@purelyshutters.co.uk.
Get a free quote
If you'd like an idea on price, click the "Quick Quote" button at the top of our website. Prefer an in-person appointment? Book your free home survey today for one of our Shutter Specialists to come out to your home.