Window Shutters are always a popular solution to beautiful window dressings. They are considered to be the only window treatment considered to add value to a property.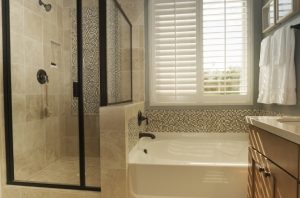 Naturally, we passionately believe that window shutters are also a cost-effective and practical window dressing solution too, particularly for problem windows which have interesting shapes or are in tricky locations.
Plantation Shutters offer privacy and light filtration as well as being an excellent means of regulating the temperature in a room; they also provide superb heat insulation too. In reports and surveys, well-fitting Wooden Plantation Shutters were found to provide extremely efficient insulation against the cold.
There are a wide variety of shutters styles to choose from:
Plantation Shutters:
With solid wood frames and louvered slats, Plantation Shutters are an elegant and stylish window dressing. They are an ideal way to control light and privacy, without compromising either. Plantation Shutters create a chic first impression too. These timeless window dressings can be created in a wide variety of shapes and styles, from square, arched, round or oval. See our style guide for inspiration.
Solid Shutters:
Often used as a chic bi-fold door solution or room dividers in more contemporary residences, solid shutters offer elegance and sophistication. In addition, they are excellent for heat and sound insulators, ideal for reducing noise from busy roads, increasing security, while providing near black-out light filtration.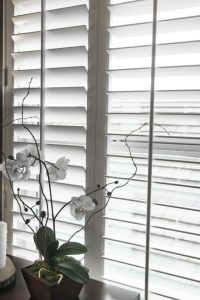 Solid Base Shutters
If you are looking for a sleek and stylish way of combining the benefits of the privacy offered by solid shutters and the light filtration given by plantation shutters, then Solid Shutters are the perfect solution for you.
Café Shutters:
If whole window coverage isn't required, café style – covering only the lower half of the window – is also a possible option. These half height Plantation Shutters are the perfect way to guard your privacy while letting the light flood into the room. Often used in terraced houses or homes where the front rooms face the street. They give a modern and contemporary feel to any home.
Tracked Shutters:
As I am sure you can appreciate, if you have extra wide openings, i.e. those over 220cm, then it is best to use a tracked shutter system as they will be much more controllable. In addition to running on tracks, they are more secure as the weight of the shutters is not taken by just 2 or 3 hinges.
Tier-on-tier:
Tier-on-tier shutters are versatile, as the top and bottom halves operate independently. Shutters can be made to fit bay windows snugly and are the only practical and aesthetically pleasing solution to round windows
Shutters for Interesting Windows:
Not all homes have rectangular windows. With shutters you can create the light filtration and privacy you require with any shape of window in any location. All our shutters are hand made by Purely Window Shutters Master Craftsmen to exacting standards. So if you have a round, oval, arched, triangular, diamond, hexagonal or any other interesting shape of window, talk to us and we will create the ideal design for you.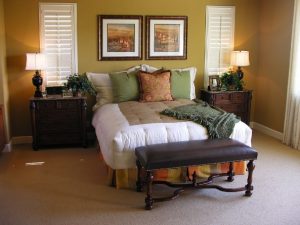 Any questions – we're here to help
We have filled our website with as much information as we can, including an FAQs page, however we do appreciate that we cannot answer every question you may have as the decision to choose a Purely Shutters' product is a very personal one.  If you have any questions at all, please do call us or drop us a line and one of our representatives would be delighted to help you as soon as possible.