So, you've got an arched window, but you're not sure how to dress it. Do you go for curtains or blinds and accept that it will look a little…off? Or do you opt for made-to-measure arched shutters that are built to the exact specifications of your shaped window? We're pretty sure you can guess which one we would recommend. Of course, we are always going to say that arched shutters are the way to go, but you don't have to just take our word for it and leave it at that.
Are Shutters a Good Choice for Arched Windows?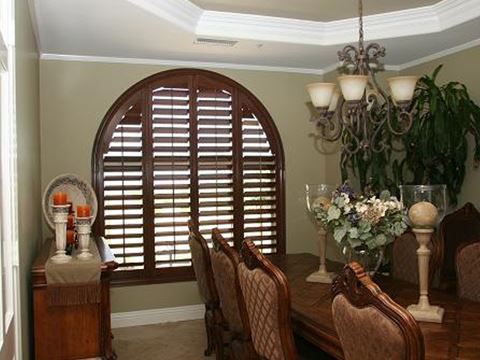 We're glad you asked if arched shutters are a good decision. There are many benefits to having shutters in your home, but especially when it comes to arched windows. Let's get the most obvious points out of the way. Firstly, as mentioned, our patio door shutters and window shutters are made to fit to the exact size and shape of your window. This means they don't just blend in with your window, they accentuate its best feature, i.e., its arched shape. And because they are made to fit so perfectly with your special shaped window, you can be sure that no pesky drafts will escape. So besides bringing some extra wow to your home, they'll help save you money on heating bills by keeping your home warmer for longer. But that's not all…
Light and Privacy
Shutters for arched windows have a distinct advantage over other window dressings that can boil down to one thing: control. The moveable slats of arched shutters grant you an unrivalled level of control, meaning you can dictate exactly how much light comes into your home. This also means that you can let light in without passers by being able to see into your home. Arched shutters can also improve your home's security, preventing would-be intruders from seeing inside.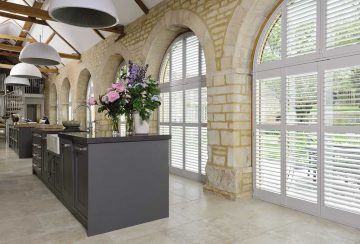 Arched Shutter Colours
Arched window shutters don't just come in white (although who doesn't love white shutters?). You'll have the choice of Purely Shutters' full colour range, from the whitest of whites to a matte black finish. Looking for something a little more textured? Our limewash and wood-stained finishes are perfect for adding a little more depth to your room. And if you're after something a little different, we even offer custom colour matching. We're able to match to the Farrow & Ball Core Collection, Little Greene's 'Colours of England', 'Green' and 'Grey' collection, Dulux Trade 'colour palette' range and RAL Classic.
If you would like to further discuss arched shutters or other styles like patio door shutters, you can book in your free home survey today. Simply click "Book Appointment" at the top right of this webpage, enter your details, and wait for one of our friendly team to pencil you in the diary.