So, you've made the wise decision to opt for shutters to transform the interior of your home. You might be wondering what you can do to ensure that your new shutters reflect the interior style of your chosen rooms.
Maybe you're struggling to decide how to finish off your chosen style of plantation shutters. There are many options available, from traditional white-coloured shutters to darker colour shutters.
When it comes to installing shutters, the good news is there is no right or wrong answer here. It all comes down to your personal design preferences. However, let's delve a little deeper and try to find the right option between light or dark shutters for you.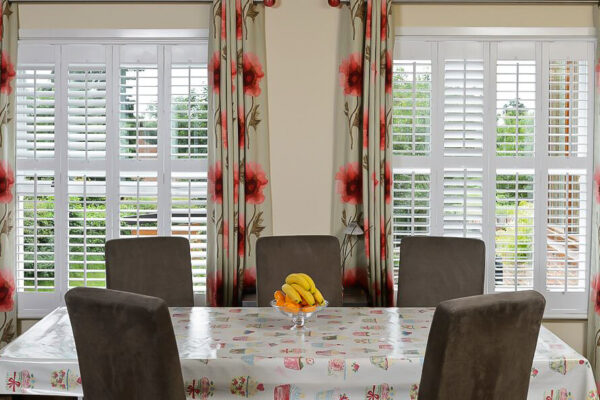 Why choose light shutters?
The most common colour for shutters that is selected is white shutters. This traditional colour option helps to provide a lot of light into any room in the home and brightens up the home interior.
There is a reason why white shutters are so popular. That is because white complements any colour that you might have on your walls or the rest of your home interior.
There are other colour options available if you think that light shutters are the right option for your home. Yellow colours are a growing trend in 2023 when it comes to interior design. Therefore, opting for yellow shutters might be a good way of brightening up your home interior.
You should choose light wood shutters if you have darker interior walls and want to have some contrast with the warmer darker colours.
Whilst light shutters are also a good option for your home if you have a lighter-coloured exterior. That is because having dark shutters on display would draw eyes away from your lovely home exterior and towards your windows.
Why opt for dark shutters?
Traditionally darker shutter colours are not as popular as lighter-coloured shutters. However, at Purely Shutters, we believe that dark shutters can be a very good option for any home interior.
If you have light-coloured walls, then having darker colours like black or grey for shutters will give you the chance to make a real feature of your shutters. That is because the bold darker coloured shutters will really standout amongst the rest of the room. And why wouldn't you want to make a feature of our stylish plantation shutters?
There is also the case that dark shutters can be the better choice when it comes to how your shutters blend with your home exterior. If you have bricks exposed on the exterior of your home, then dark shutters can offer a more natural look when it comes to blending them with the outside of your property.
Purely Shutters have a range of custom colour options to ensure that you find the perfect dark shutters shade to suit your home exterior.
Still have questions
At Purely Shutters, we offer a wide selection of colours and styles with our range of shutters. We can therefore ensure that whether you opt for light or dark shutters, we'll have you covered.
If you have any questions about our shutter finishes, please contact us at hello@purelyshutters.co.uk. Ready to take the next step? Book a free home consultation with us today!