Reducing your home's carbon footprint is not only kinder on the environment, it also saves money on bills and makes your property more appealing when it comes to selling or letting it out.
If you're looking for some simple ways to make your home more environmentally friendly, below we have listed five great ways to do exactly this.
Check your appliances
 Most modern appliances now come with an energy ratings label which ranges from A+++ to D. This lets you know how energy efficient your appliance is for its size and can also give you a rough guide of how much it will cost you to run.
The closer to A+++ you get, the more environmentally friendly the appliance is. If your appliances are old, it may be worth replacing them. Although this is an expense, overall it may be costing you more to keep them running than it would be to simply replace them.
Insulate your property
 If your property is poorly insulated, it will cost you a fortune in heating during the cold winter months. The good news is that with roof, wall and floor insulation available, there are a number of ways you can easily solve this problem.
Don't forget to tackle draughts as well because you could be losing up to 15% of your heat through these areas alone. Fitting excluders around doors, windows and letterboxes are easy, affordable and can really help to save you money in the long-run.
Upgrade your boiler
 If your boiler is more than eight years old, it may be time to think about upgrading to a more efficient model. Going from a G to an A rated model could save you up to £350 in energy bills per year, not to mention any costly plumbing repairs you have to make.
Get window shutters
 If you're looking for a stylish way to do your bit for the environment, why not consider window shutters? Window shutters are incredibly eco-friendly for a number of reasons including:
They're timeless and durable – because they're built to last it means that they very rarely, if ever, need to be replaced which saves on materials and reduces the amount of rubbish you're creating.
They're fantastic heat insulators.
They're made from natural wood which comes from replanted trees or designated forest areas which are carefully managed.
They're low maintenance and easy to keep clean which means that you're not spraying endless amounts of harmful chemicals into the air.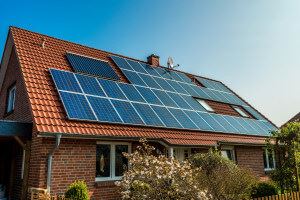 Install solar panels
 Some people are put off by how solar panels look but when you weigh up the huge number of benefits they provide, their appearance seems trivial. By taking advantage of solar power, you can dramatically reduce your energy consumption and even sell any excess energy you produce to your utility company. Government grants, incentives and tax breaks are just a few of the other benefits available to those who use solar power in their home.
Solar panels are a great long-term investment so it's worth bearing in mind that if you're thinking of moving in the next few years, they may not be a financially viable solution for you.
Browse our stunning range of shutter styles, or feel free to give us a call if you have any questions!