Every once in a while it's nice to spruce your home up with a bit of a makeover. Not only does this help to keep things fresh and interesting, it can also add to the value of your property which is great news when it comes to selling it on.
The even better news is that despite what many people think, there are a number of fantastic ways you can give your home a makeover without spending an absolute fortune on it.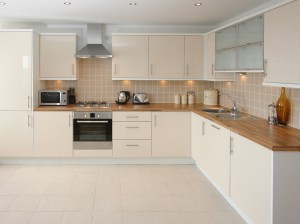 Update your kitchen
A new colour can make a huge difference to a room, especially in the kitchen where things can become dirty very quickly. Start by repainting the walls, ceiling and even any woodwork. If this isn't enough to make a difference, new tiles or flooring can really transform a kitchen without breaking the bank.
If your units are still in good condition, you can simply change the doors which is another great way of modernising or brightening up the room without spending a fortune.
Refinish old furniture
When something starts to look old and tatty, our natural reaction is to throw it away and buy something new. Spending money on new furniture can be avoided however if you opt to refinish or paint old items instead. Not only does this cost less, you can also personalise your furnishings exactly to your taste and it will feel more special knowing that you put the time and effort into it. If you've never upcycled anything before, visit the House Beautiful website for some step by step guidance: https://www.housebeautiful.com/uk/renovate/upcycle/a1911/upcycling-beginners/
Window shutters
Window dressings can make a huge difference to the look and feel of a room. If your curtains are looking dated, the blinds are tired and worn and you're looking for a way to modernise your home, window shutters are perfect.
Available in a number of different styles, you can tailor the look to suit your home, they're easy to keep clean, they will look great for years to come and they're incredibly versatile. Shutters also have a number of other benefits – they provide extra security, they can keep your house cool in the summer and warm in the winter, they offer privacy whilst still allowing you to let natural light in and they can even add to the value of your home.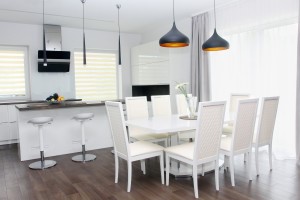 Have a spring clean
One of the cheapest and most effective ways of providing your home with a new lease of life is to give it a good spring clean. Start by thoroughly cleaning everything and then see what you can throw away. De-cluttering is an excellent way of brightening the place up, making it seem bigger and increasing your house's overall appeal. Visit the Good Housekeeping website for de-cluttering tips: https://www.goodhousekeeping.com/home/organizing/tips/g656/decluttering-tips/
Look out for the sales
All the major home retailers such as Homebase and B&Q often have sales on at different times throughout the year and even on bank holidays. This is a fantastic time to purchase anything from tools, paint and building materials to garden furniture, lighting and electricals at discounted prices. Also ask about ex-display models because a lot of retailers are happy to sell these on at heavily discounted prices and there's often nothing wrong with them. If you would like more information about window shutters, their benefits and how you can incorporate them into your home, please feel free to contact us here at Purely Shutters and we will be more than happy to help.
Delve into the world of shutters and explore our stunning range!