Window shutters make a fantastic addition to any home. They can be costly however so if this is a purchase you're thinking about making, it's natural to have some questions. To find out everything you need to know about window shutters, below are six of the most frequently asked questions about this type of window dressing.
Are shutters better than blinds or curtains?
You can of course get by perfectly fine with curtains or blinds but shutters take window dressings to a whole new level. As well as keeping out the light first thing in the morning and offering you some privacy, they can also help to keep your house warm. That is because interior window shutters help to trap in more of the warm air in the home, meaning they are more energy efficient than blinds or curtains. Wooden window shutters can also offer extra security and help with sound insulation. All of this can mean they help to add extra value to your home. You can find out more about how shutters will benefit your home.
What is the difference between plantation shutters and solid shutters?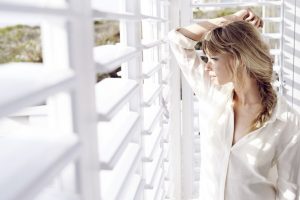 Plantation shutters originated in cotton plantations in the 'deep south' of America as well as from sugar plantations in the West Indies. They boast louvred panels (twisting slats) which are fixed inside a shutter frame. They can be fitted to either the inside or outside of your windows.
Solid window shutters feature panels that are similar to narrow bi-fold doors and they don't have any louvres. They are available in a number of different styles including solid raised, shaker and solid moulded. These solid wooden window shutters can offer extra security and better light control as well.
How can shutters improve security?
Both plantation shutters and solid shutters make it very difficult for anyone to see into your home from the outside. This is particularly great if your front room overlooks a pavement where people are regularly walking past. When shut, curtains and blinds do of course offer the same benefit, but chances are that you don't want your house to be in darkness when it's daylight outside. That of course means that they are able to improve home security whilst also being able to maintain the flow of natural light into the home during the daytime.
Shutters allow you to adjust the louvres to let in as much or as little light as you like but whilst they're sitting at an angle, it would still be difficult for anybody to see into your house. Interior window shutters are therefore the right option to go for ahead of curtains and blinds when it comes to providing extra security in the home.
Will shutters make my house look dark?
As mentioned above, you can adjust the louvres on your window shutters to control how much light is coming into the room. With regard to the design of your shutters, this entirely depends on your colour choice. Darker colours will of course make the room look darker. However, if you opt for bright white or cream colours, interior window shutters can actually help to brighten up your home.
That means that there is no reason why window shutters should mean that your house will look dark. You will be able to control how much light you let in through the window and also how bright the shutters are in terms of colour. For some top tips on how to make your room appear larger with colour visit the BBC website: https://www.bbc.co.uk/homes/design/colour_trickswithcolour.shtml
Can shutters be installed on any windows?
Yes, shutters can be installed on virtually any style of window and even on French doors and sliding patio doors. That means that whatever window you are thinking of in terms of adding a stylish finish with shutters, there will be a bespoke window shutter option to suit your needs. Also, because window shutters come in a range of styles, there will be an option that fits your interior design tastes.
Can I fit my shutters myself?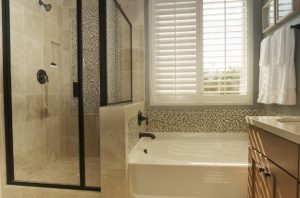 Some suppliers design window shutters so that you can fit them yourself and others don't so it entirely depends where you get them from.
If you are planning on installing your own shutters, make sure they have been supplied to you in the exact measurements you require. There are a number of ways to fit your shutters and the company you purchased them from should be more than happy to help you with this.
Even though it is possible to fit your shutters yourself, it's always advisable to use a professional to minimise the chance of any damage occurring.
Interested in finding out more about shutters? Get a quick quote or call us on 0800 038 5311